Komplete Kool – Outlasts and Outperforms Conventional Treatment
Komplete Kool is a revolutionary new cooling system treatment for both diesel and gasoline engines formulated with a unique blend of long-life corrosion inhibitors combined with iron oxide/scale dispersants. This combination provides outstanding corrosion protection and performance that surpasses conventional cooling system treatments. 
Operation
Komplete Kool protects against the build-up of harmful cooling system deposits, liner cavitation, and corrosion erosion, promoting a cleaner, more efficient cooling system. Scientific evidence has shown that inadequately maintained cooling systems are directly responsible for approximately 40% of all engine failures! The combination of scale build-up, rust, and corrosion can lead to overheating, breakdown, and lack of performance.
Lower Cost
There are no trade-offs. Komplete Kool is the clear choice when you are looking to reduce service time, lower product costs, and ultimately lower overall maintenance costs. Komplete Kool can reduce antifreeze disposal by up to 80%.
Environment
Komplete Kool is scientifically formulated to safely clean metal surfaces and restore antifreeze/coolant without flushing the system or recycling.
Compatibility
RED TEK Komplete Kool meets the criteria set forth by The Maintenance Council, will not void engine warranties, and contains specialized buffers to maintain proper pH.
Komplete Kool™ removes deposits in every critical cooling system component and dissolves them while the engine is under normal operating conditions. Komplete Kool is a unique formulation that can give you all these benefits:
Superior corrosion protection
Eliminates antifreeze changes
Maintain proper pH
No other SCA's required
Improves cooling
Easy to use and maintain
Environmentally safe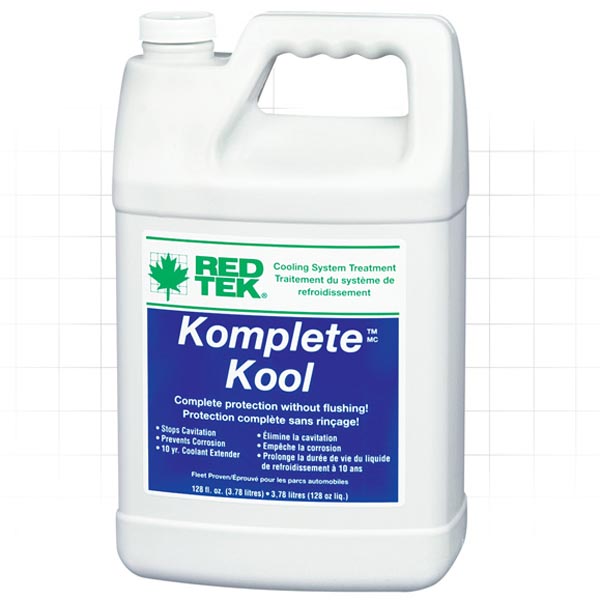 Brand: RED TEK
Model: Cooling System – Komplete Kool
MPN: Komplete Kool
UPC/Part Number: 717, 718, 719
EPA Certification Required: No
Require Certification to Purchase: No
717 Komplete Kool 1 gal
Item No: 717
Unit Wt: 10.25
Case Pack: 4
Case Wt: 41
Case LxWxH: 15x9x12
Pallet Quantity: 50
UPC Code Each: 819331007172
Pallet Wt – lbs: 2050
718 Komplete Kool 5 gal
Item No: 718
Unit Wt: 38
Case Pack: 1
Case Wt: 38
Case LxWxH: 16x8x5
Pallet Quantity: 18
UPC Code Each: 819331007189
Pallet Wt – lbs: 684
719 Komplete Kool 50 gal
Item No: 719
Unit Wt: 450
Case Pack: 1
Case Wt: 450
Case LxWxH: 32x32x58
Pallet Quantity: 4
UPC Code Each: 819331007196
Pallet Wt – lbs: 1800
Say good-bye to antifreeze/coolant changes. Contact a sales representative in your area today to buy Komplete Kool cooling system treatment.