Fuel Enhancer – Cleans, Refinishes, and Lubricates
RED TEK Fuel Enhancer is a proprietary liquid blend of positively charged petroleum hydrocarbons. It contains combustion enhancing molecules linked to lubrication molecules, thus simultaneously improving combustion and lubrication. This electro-chemical ionization smoothes and polarizes metal surfaces.
RED TEK Fuel Enhancer is the most economical answer to all your diesel and gasoline engine problems. A premium performance, ultimate anti-gel fuel enhancer designed for use in agriculture, heavy-duty truck, forestry, automotive, and marine environments.
RED TEK Fuel Enhancer contains a proprietary, advanced technology additive that increases lubricity, cleans, and refinishes critical engine components including:
Injectors
Piston Rings
Carburetors
Upper Cylinders
Pumps
Valves
Spark Plugs
Reformulated Fuels
The government-mandated reduction of benzenes and aromatics in diesel and gasoline fuels can result in lost horsepower, increased consumption, rough idling, and gelling. The lower amount of sulfur reduces lubrication to pumps and injectors. RED TEK is the most effective product that solves these problems!
Anti-Gel Protection to -60°F
Newer diesel fuels gel at higher temperatures. Extreme anti-gel protection is provided, and clogged filters can be reopened. Fleets can now use #2 fuel year-round!
Stabilizes Storage Tanks
Our Fuel Enhancer significantly reduces the pour point, clouding and wax formations in low sulfur diesel fuels, and is highly recommended for stabilization in storage tanks. Fuel Enhancer completely dissipates water and prevents algae and bacteria growth in fuels.
Environmentally Friendly
RED TEK Fuel Enhancer significantly increases cetane and octane rating, reduces harmful emissions up to 100%.
Safe Fuel Enhancer
RED TEK Fuel Enhancer contains no harmful alcohol, sulfur compounds, or any chemical listed as a carcinogen (benzenes, aldehydes) by OSHA or the National Toxicology Program.
Warranty Safe
RED TEK Fuel Enhancer will not void engine warranties.
Improved Combustion
Increased Horsepower
Decreased Fuel Consumption
Smoother Running Engines
Extended Fuel System Life
Complete Water Dissipation
Rust and Corrosion Protection
Prolonged Seal and Gasket Life
Algae/Bacteria Protection
Fuel Savings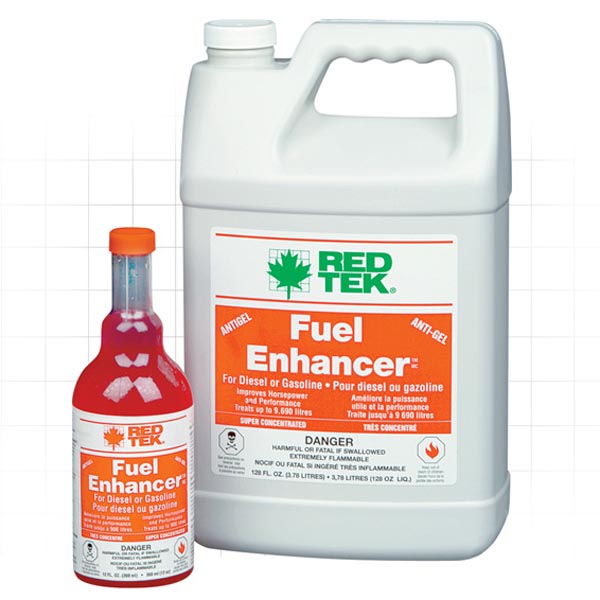 Brand: RED TEK
Model: Fuel Enhancer
MPN: Fuel Enhancer
Part Number: 711, 712, 713, 714, 715
EPA Certification Required: No
Require Certification to Purchase: No
Replacement for: Conventional Fuel Enhancers
711 Fuel 16 oz
712 Fuel 1 gal
713 Fuel 5 gal
714 Fuel 15 gal
715 Fuel 55 gal
Technical Data Sheet
Packaging Available
Contact a sales representative in your area today to buy RED TEK Fuel Enhancer.